On Saturday, March 12, 2022, Car Free Day is celebrated on Joaquina Eguaras street, with activities, stands and exhibitions between 10:30 a.m. and 2:00 p.m.
You can consult the complete news at Granada.org, on Edict and the information about activities and traffic closure.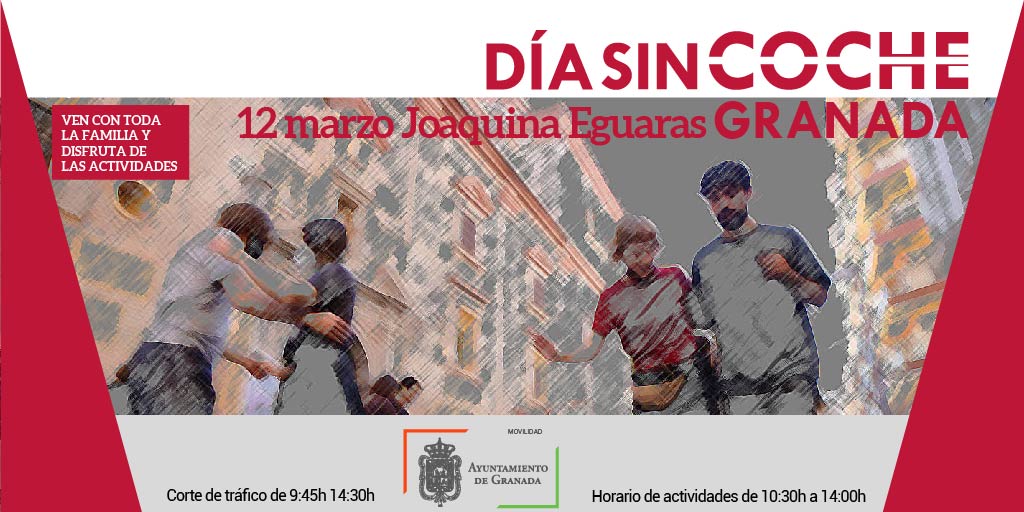 The City Council of Granada once again schedules this weekend a complete program of sports, cultural and leisure activities aimed at raising public awareness of the need to commit to sustainable and healthy mobility through the use of alternative means of transport to the private vehicle that helps us to improve the quality of the air and also to recover the public space for the enjoyment of the neighbors.
The Councilor for Mobility and Citizen Protection, Raquel Ruz, has reported that next Saturday March 12 a new edition of the so-called Car Free Day, in this case in the Beiro district, specifically on Joaquina Eguaras avenue, in the section between Fernán Caballero street and María Angustias Giménez square, where from 10:30 a.m. to At 2:00 p.m., an extensive program of workshops and activities for the whole family will be held.
Special emphasis has been placed on the great acceptance shown by Grenadians in past editions, where, in the case of the one held on Calle Recogidas, more than 5,000 participants were counted. which amounted to 4,300 during the Day without a car that took place in the Zaidín neighborhood, while the activities scheduled in the Chana neighborhood concluded with 3,500 attendees.
Likewise, he emphasized the increasing involvement of collaborating associations and groups, which now exceed twenty, whom he thanked for their cooperation, commitment and sensitivity, above all, he said, because they make more and more people from Granada are coming to enjoy these activities.
Thus, as she has indicated, the Day without a car has established itself as a meeting space where families share a festive day in which they enjoy demonstrations, workshops and leisure activities . In this edition, as she has informed, there will be skate and bicycle circuits, a volleyball workshop, an American football exhibition and also figure skating. Among the scheduled cultural initiatives, a tango show and a dance show by the Mónica Morales dance school stand out, as well as the performance of plays based on the comedia arte style and the so-called improvisation theatre.
The activities planned in relation to mobility include, among others, an exhibition of electric scooters and pedestrian mobility vehicles and an exhibition of expensive bicycles for the transport of goods.
TRAFFIC CUT
The traffic cut occurs on Joaquina Eguaras street between Fernán Caballero street and María Angustias Giménez square, only in the direction of traffic towards Merced Alta.
This traffic cut involves the diversion of lines 33 and N5 as they pass through Joaquina Eguaras street.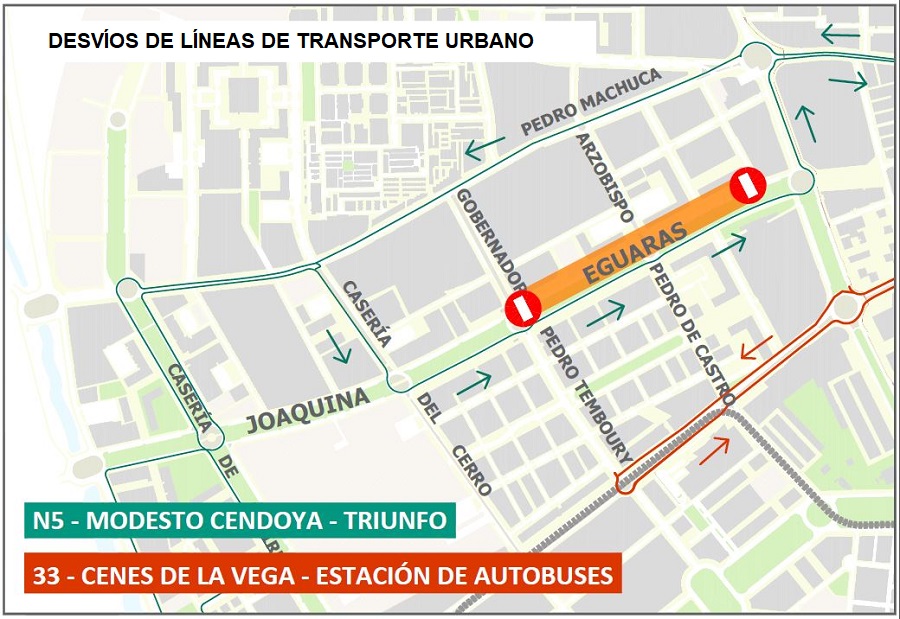 ACTIVITIES
Activities of the Car Free Day in Joaquina Eguaras street on March 12, 2022:
- Sports Activities:
Skate and bicycle circuits (Balakook and Patinamos). Skate classes for the little ones, who can come with their own skates or start on the circuit.
Volleyball/Workshop in collaboration with the Joaquina Eguaras Sports Association.
Exhibition/Workshop for American football children (Lions de Maracena)
Exhibition of figure skating with the students of Marieta Juan from the Joaquina Eguaras neighborhood association.
Baseball and Softball Exhibition/Workshop (Astros Granada)
Asprogrades inclusive sport
- Musical and cultural activities:
Tango Exhibition (Grenadine Tango Association-La Milonga de la Glorieta)
Flamenco Dance Exhibition by the Mónica Morales Dance School
Modern dance exhibition by LCK Dancers Company.
Dancing exhibition and random K-pop (Bum Crew).
Performance of two plays based on the style